AOI UH-EPL10 Underwater Housing for Olympus PEN E-PL9 or E-PL10
Introducing the AOI UH-EPL10 housing
The newly released AOI UH-EPL10 is not just a housing - it's a platform that grows as your skills do. Depth rated to 45 metres, it works with the venerable Olympus PEN E-PL9 or E-PL10, a camera that has picked up plenty of praise for its innate abilities. The sensors on these cameras, when paired with the M.Zuiko Digital ED 14-42mm f3.5-5.6 EZ kit lens, easily outperforms most compact cameras. It also allows you to switch between a wide range of M.Zuiko lenses, and can be your all-in-one camera underwater or on land.
Managing Director, Mr Victor Tsui says: "We were inspired by end-to-end platforms. We believe that your platform should grow as your skills do, taking on new capabilities just by adding components to it. Today, as underwater photographers advance, they are switching almost entire sets of equipment - the camera, housing, accessories - it's endless. But not anymore, all upgrades are plug and play with the AOI UH-EPL10."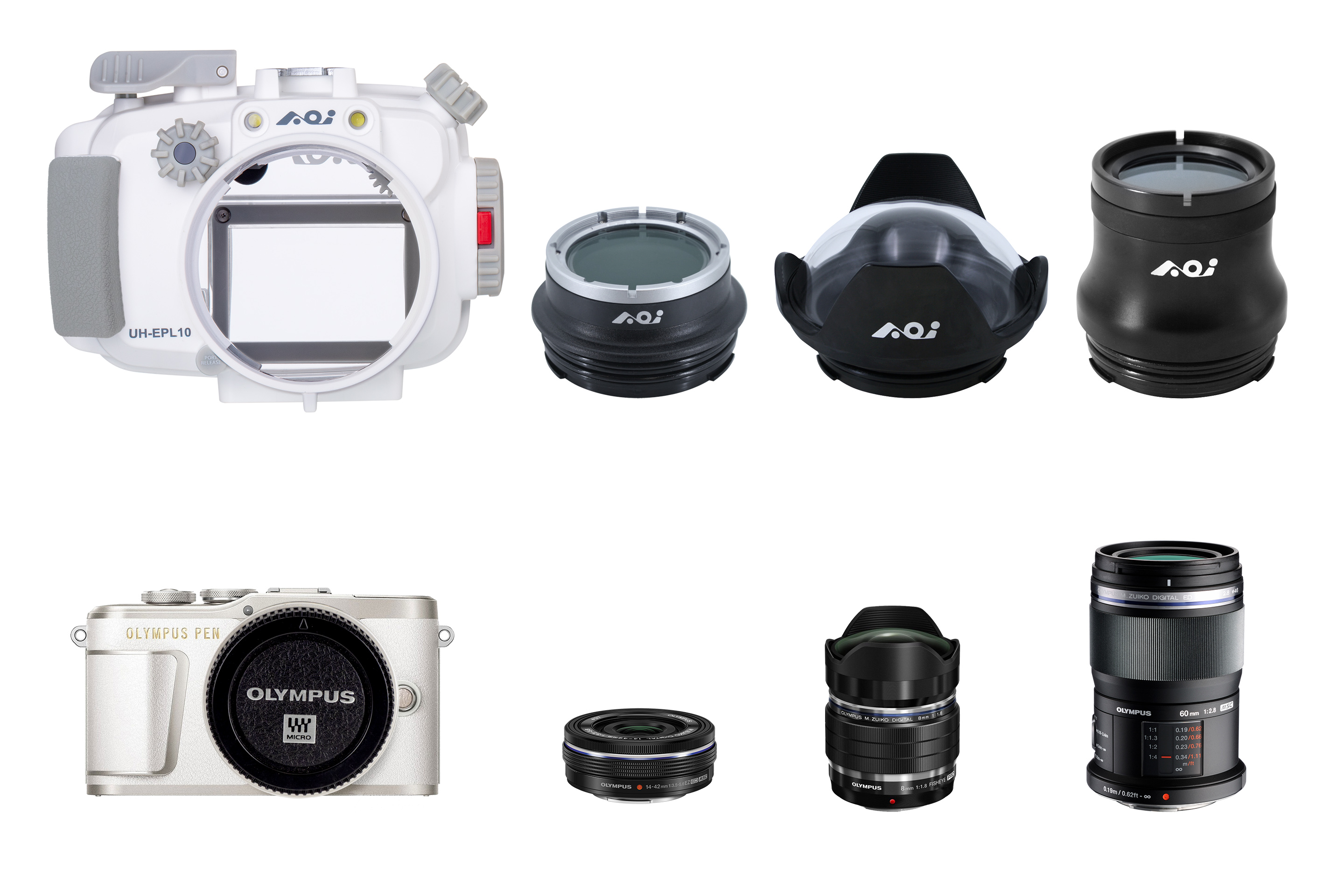 Starts way ahead of the others
In its 'out of the box' form, the AOI UH-EPL10 allows underwater photographers an easy start. A platform that sits at a comparable cost to a good point and shoot but gives you so much more.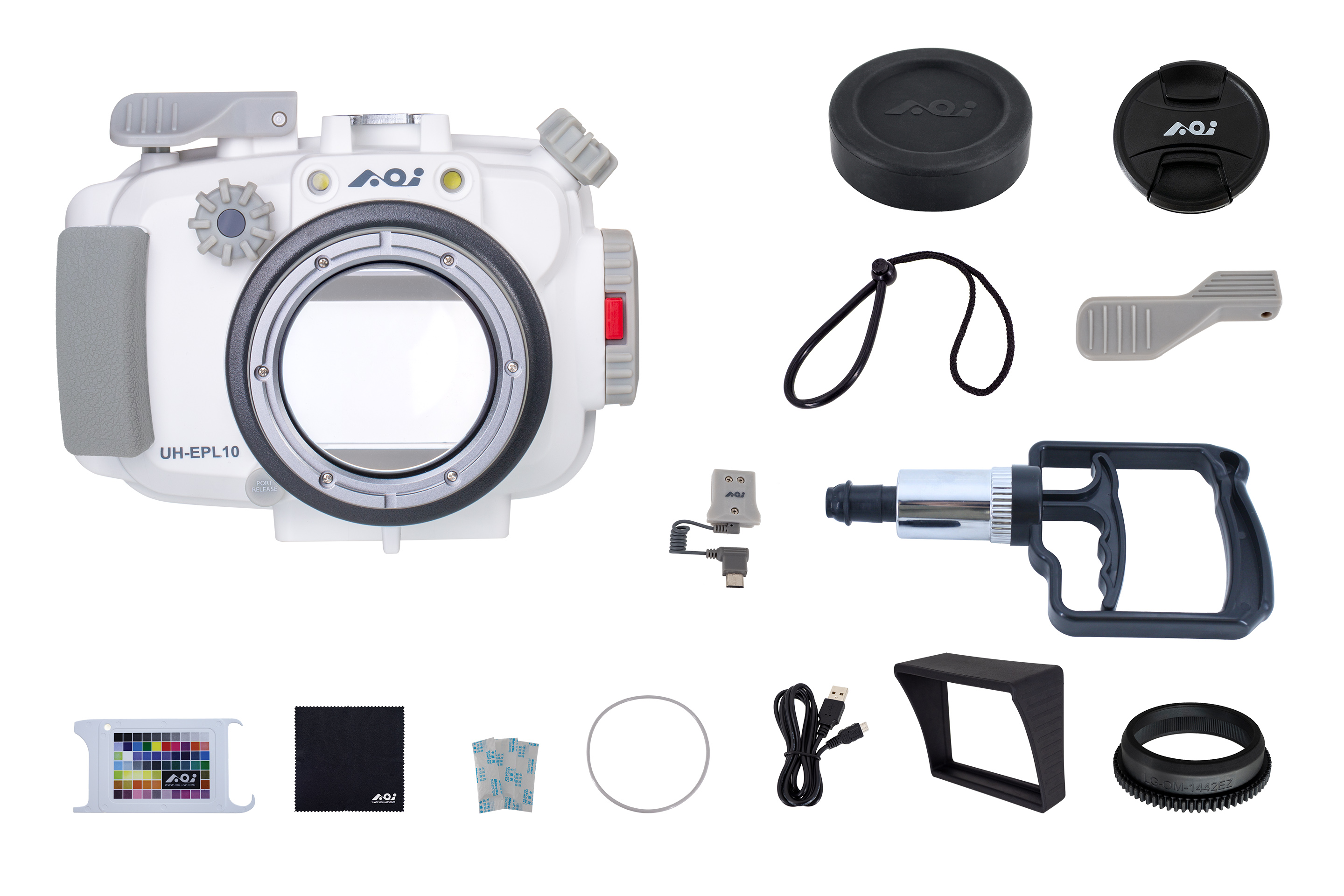 Take the housing out of the box, and you'll notice that it's a similar size to compact camera housings. Just add your camera and you're ready to play. But the similarities stop there. First, as you slip your hands through the comfortable lanyard band, you notice that everything is where your fingers naturally fall. The ergonomically designed Thumb Rest and Finger Grips, made of over-moulded rubber allow you to hold the set-up easily, reducing fatigue.
The buttons are all clearly marked just as it is on the camera, and the typically hard to reach ones are angled conveniently toward your fingertips. Dials and knobs are large, knurled and easy to turn, even with dive gloves on. The housing comes with a large Shutter Release Lever that sits right where your trigger finger rests.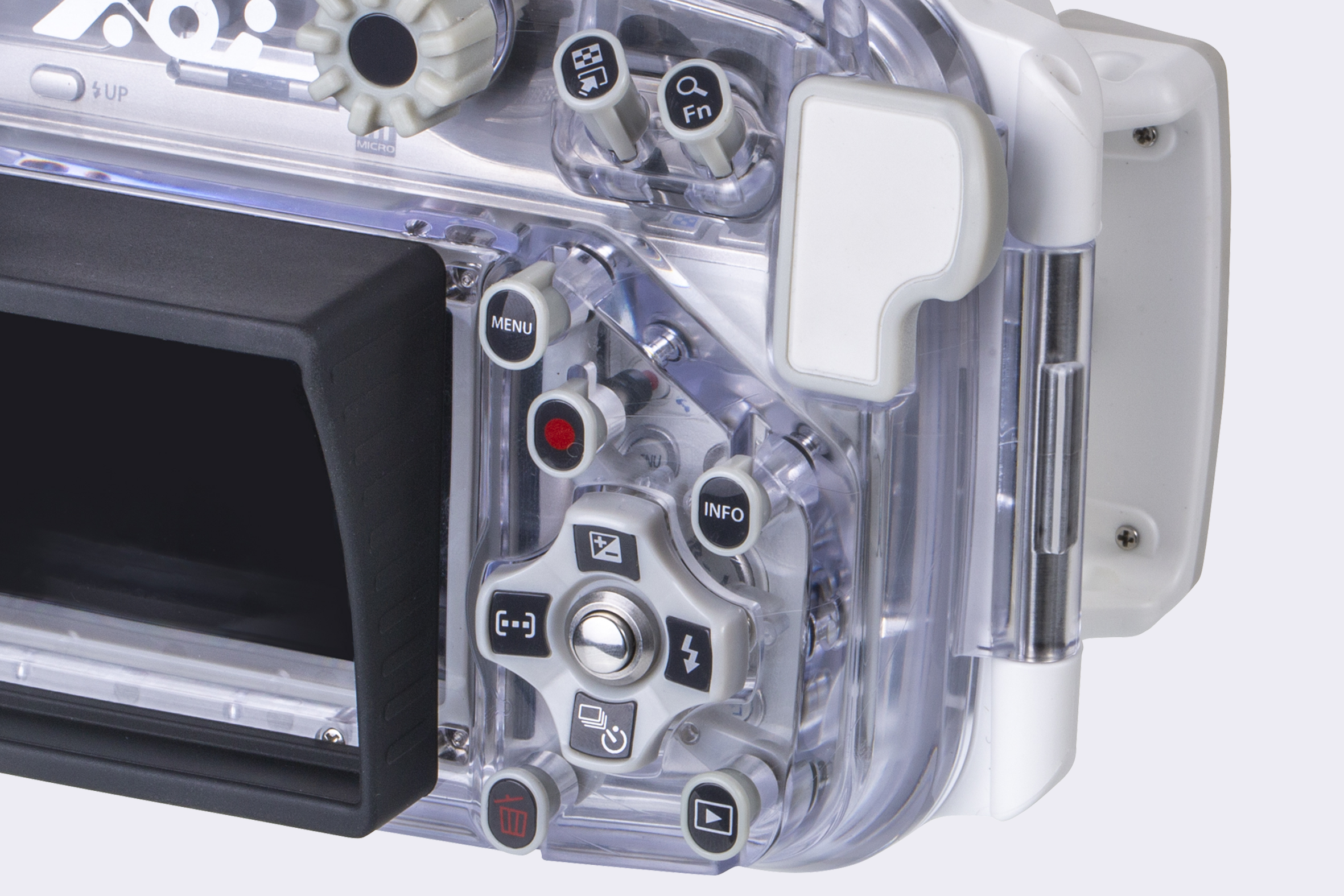 If that's not enough, it also comes with an Extended Shutter Release Lever – swap to this if you're using this setup with an arm and tray for an easier reach. An ultra-compact Flat Port featuring Optical Glass with a double sided multi-layer AR coating and Lens Gear comes as standard, so all you need is an Olympus PEN E-PL9 or E-PL10 with its kit lens - the M.Zuiko Digital ED 14-42mm f3.5-5.6 EZ - and you're all ready to shoot.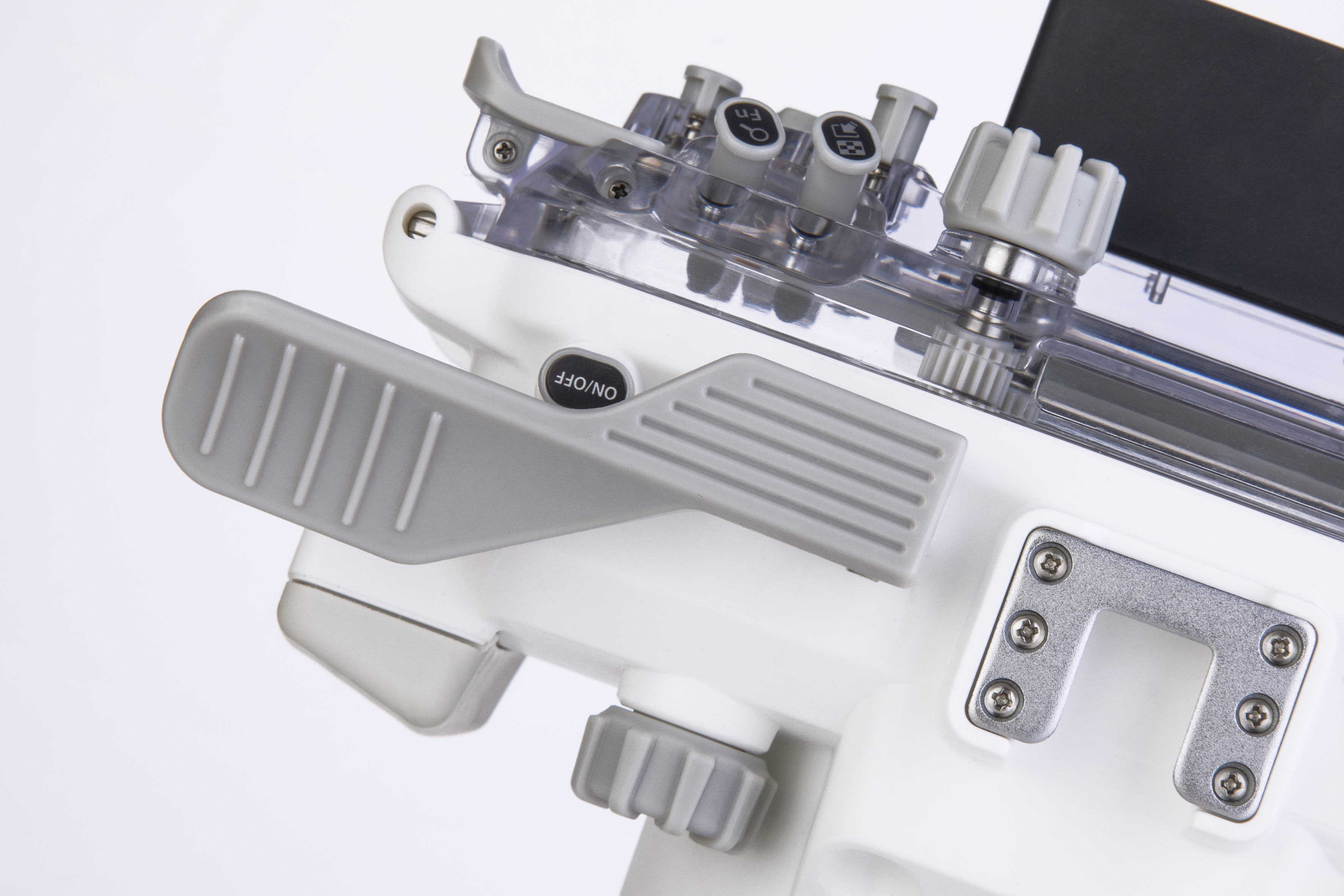 Protects your investment
Like many premium housings, the door of the housing is secured through the Cam Lock, a Cam Lock Release and a Security Lock, removing the possibility of accidentally opening the housing.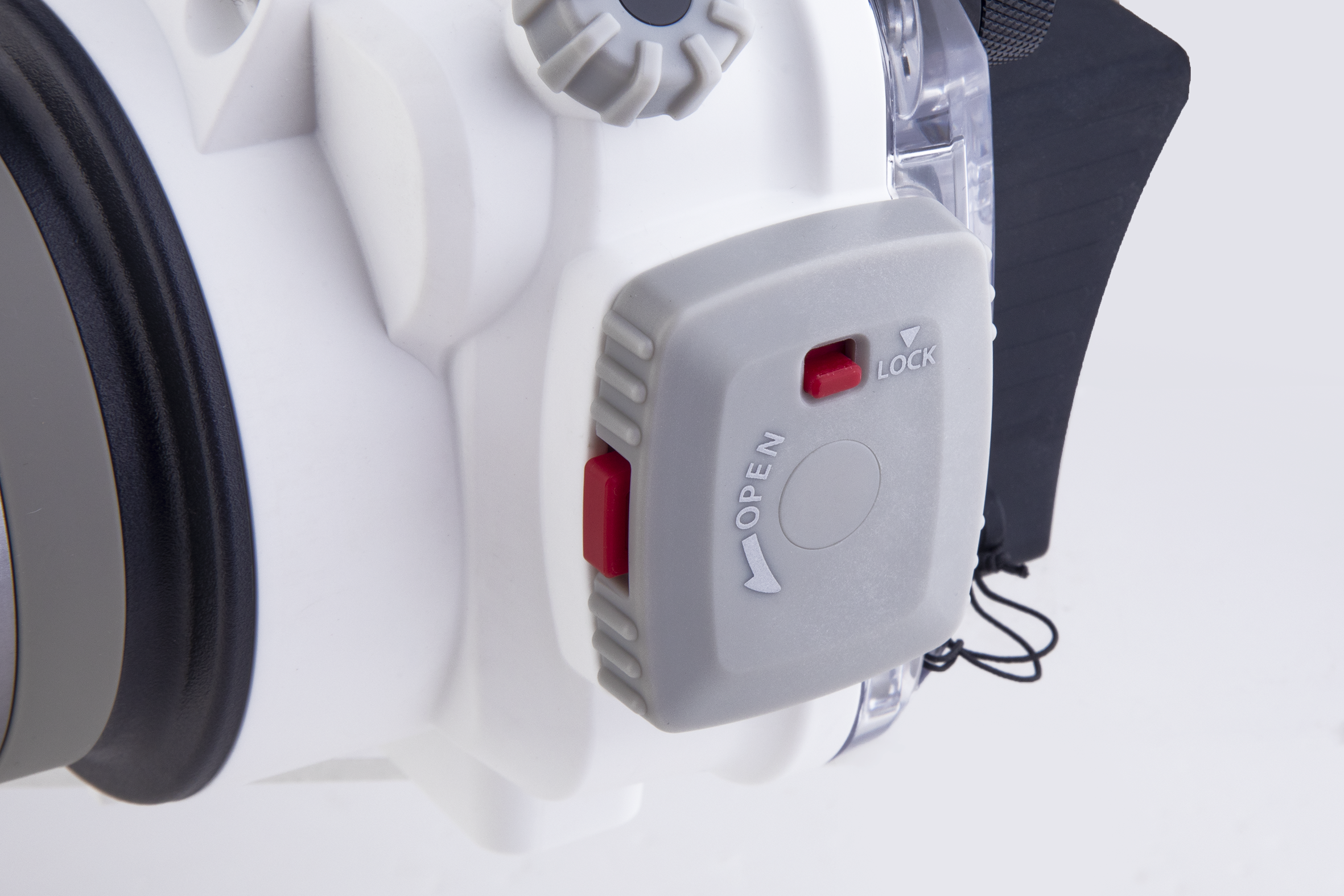 But look through the attached specification sheet (fig 1) and you'll discover even more features usually found on more expensive housings such as the built-in AOI Multi-control Device. Powered by a USB-rechargeable Battery, it's an electronic brain that does a number of things - we'll talk about two here: it runs the housing's Vacuum Analysation and Wet Detection System (VWS).
The Vacuum Analyser is a pre-dive inspection system. To use, you simply attach the included Vacuum Pump to the Vacuum Valve on the housing, and pump out air from the housing. This ensures the housing has a stable seal, which means that no water can get in. The system then monitors the vacuum seal throughout the whole dive, indicating its status via the Signal Indicator - a coloured blinking light. From before your dive and all the way through your dive - you can rest assured that the housing has a watertight seal.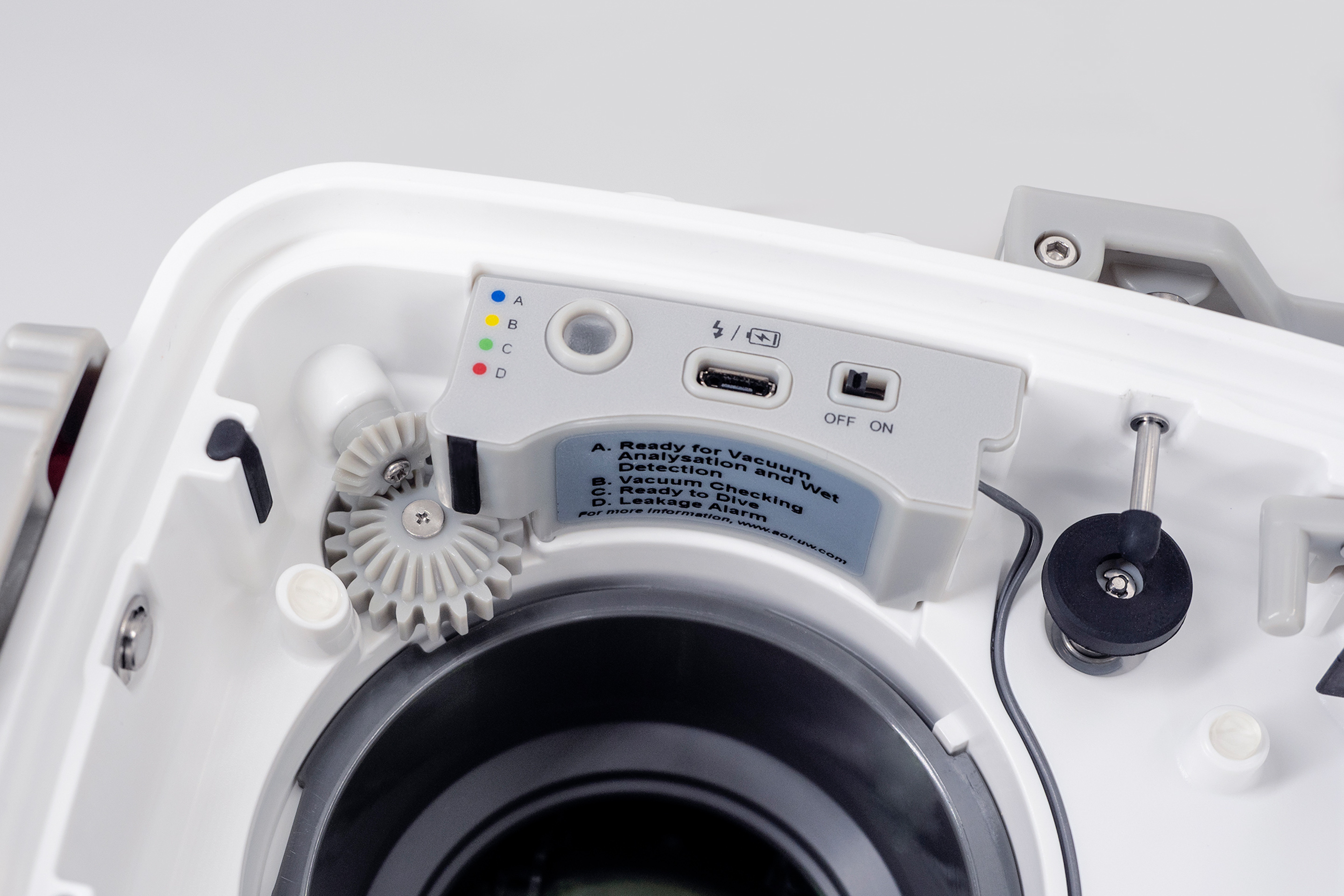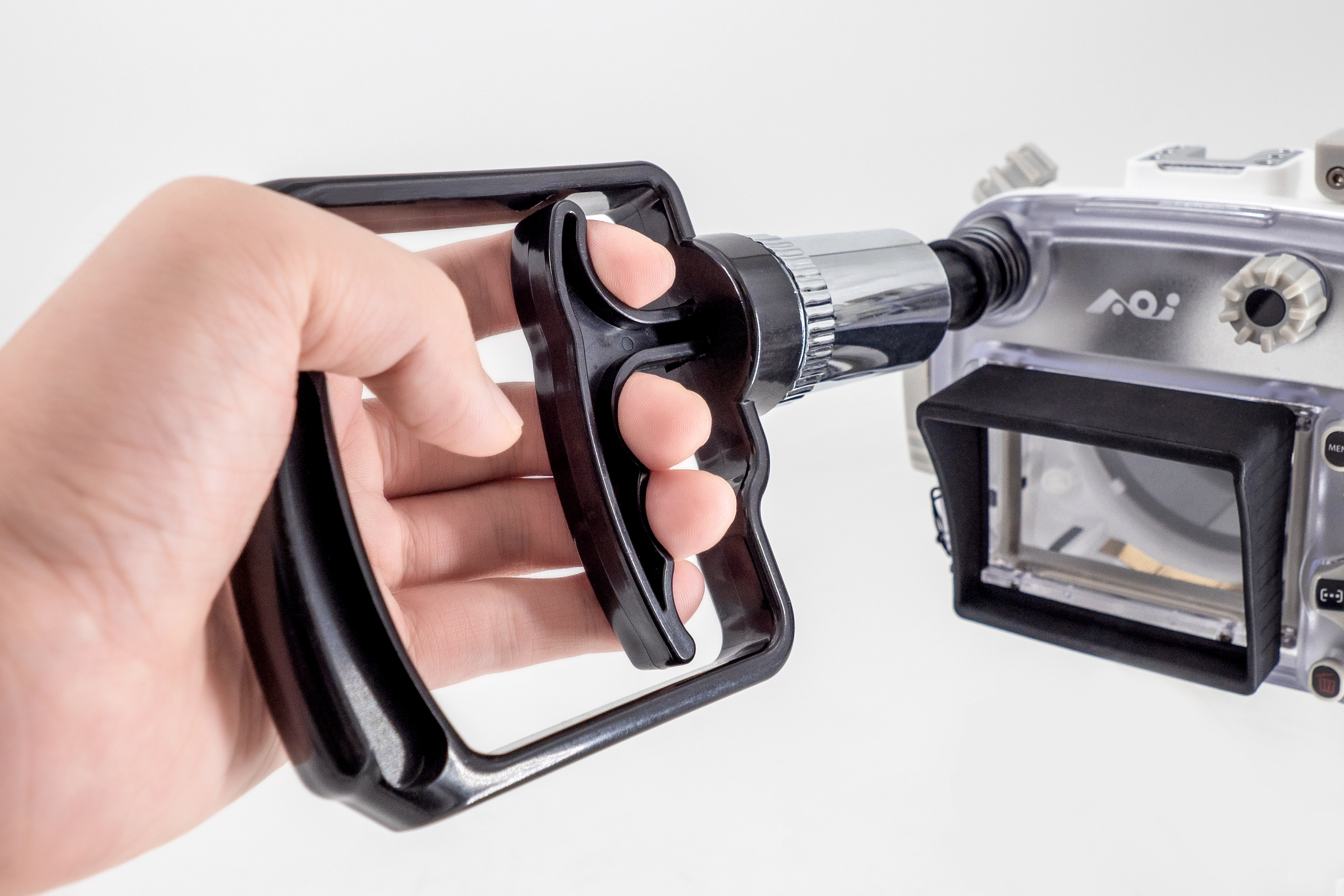 If a failure were still to happen, the Wet Detection part of this system provides a visual and audible warning that's triggered by even the tiniest drop of water. It's an advance warning that gives you a chance to exit the water safely and still save your camera.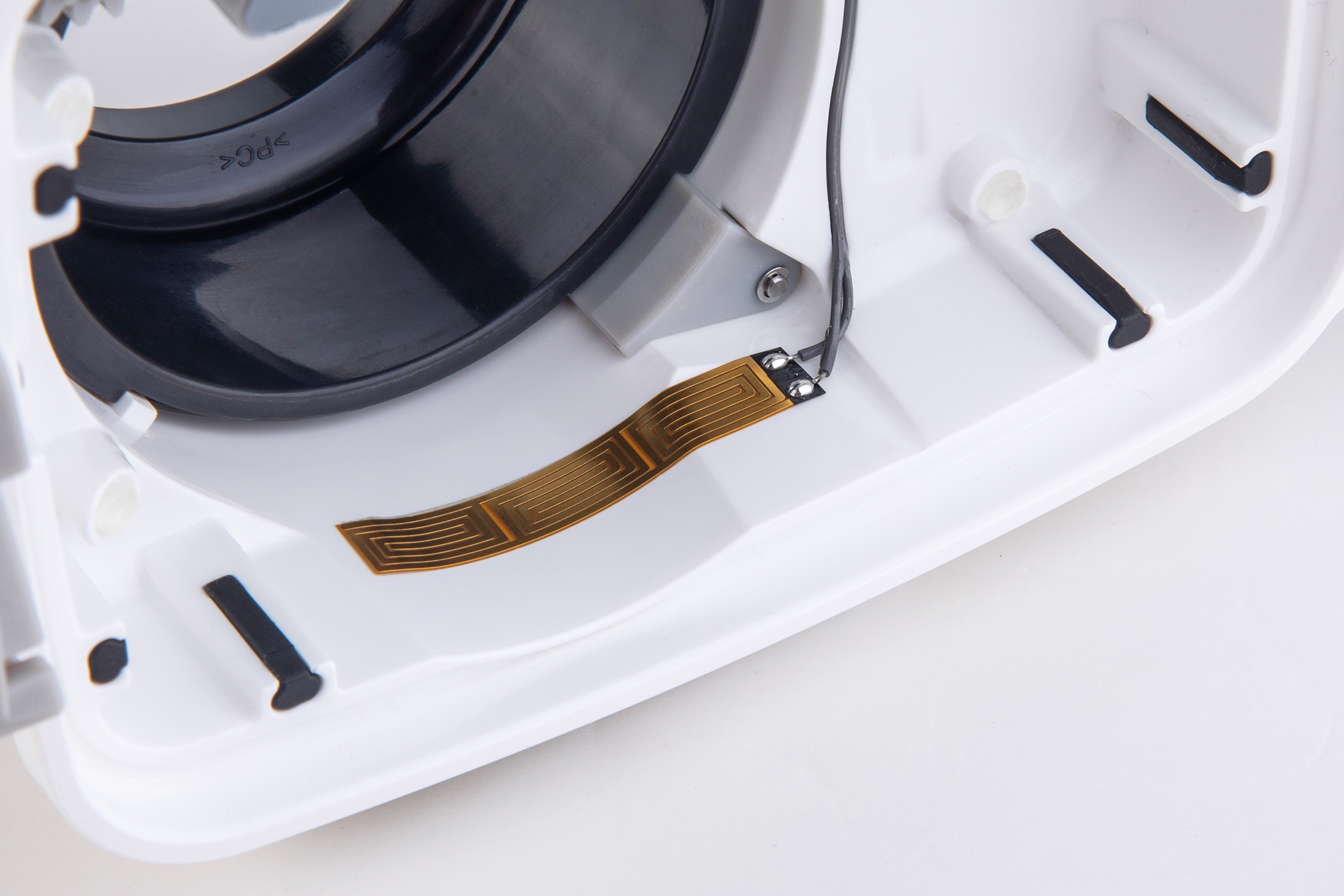 Provides a pathway to advanced set-ups
The ultra-compact Flat Port that comes standard with the housing has a 67mm thread that allows you to screw on a wide range of AOI Wet Lenses and Accessories. You can choose to go with a wide angle conversion lens or various diopters of close-up wet lenses, which can be stacked for ultra close up shots. You can also mount your close-up wet lenses to an AOI Wet Lens Flip holder that attaches to the port. The arms of the holder keep your close-up lenses of different diopters attached. Using them is as easy as "flipping" them into position.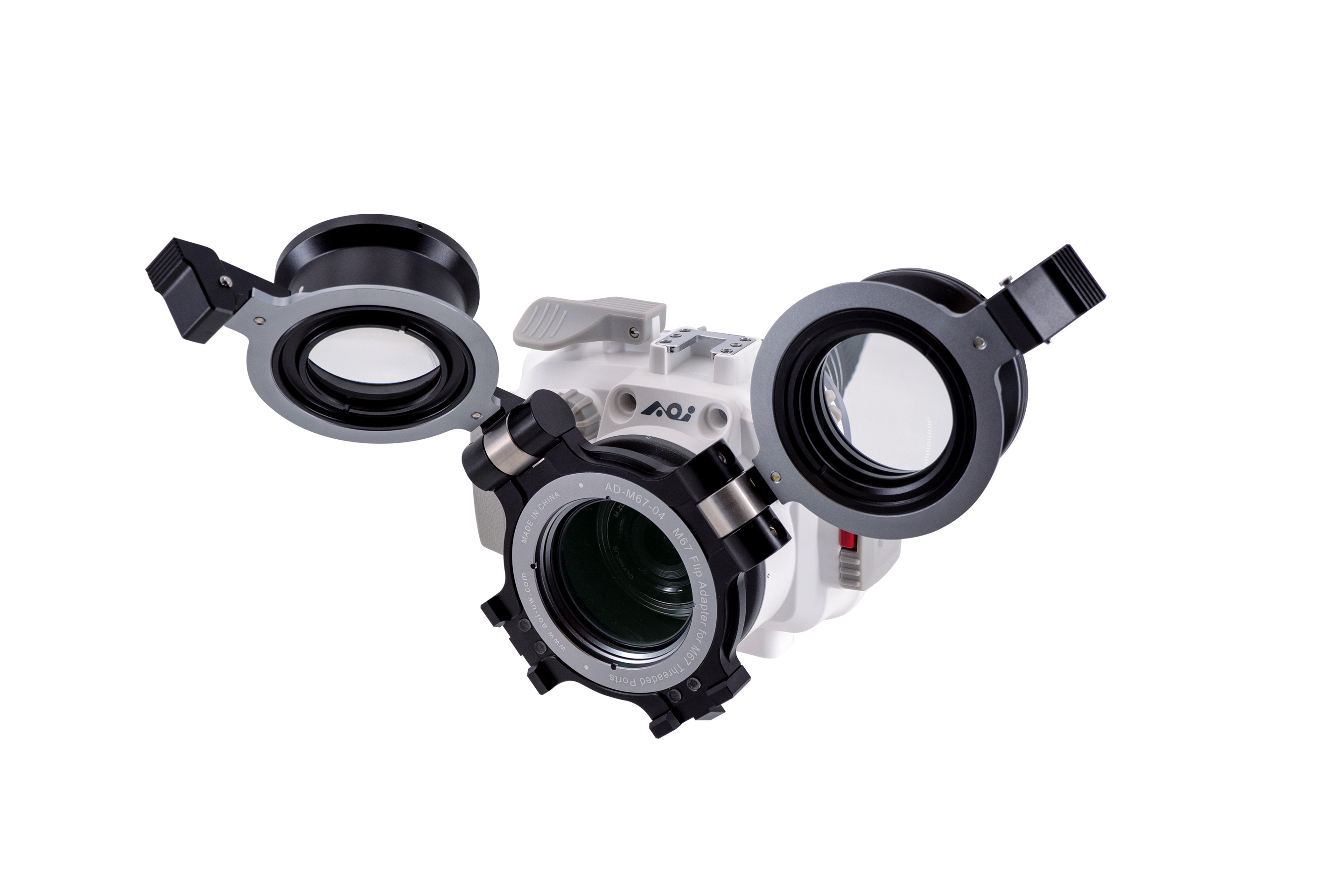 At this point, you may want to add lights. With the AOI UH-EPL10 housing, you can easily attach a small video light to the convenient Cold-Shoe Accessory Mount. Or you could reserve it for a focus light or an action camera and put your video lights or strobes on arms, connected via fibre-optical cables that plug into the two built-in Fibre Optical Cable Ports on the housing for remote triggering.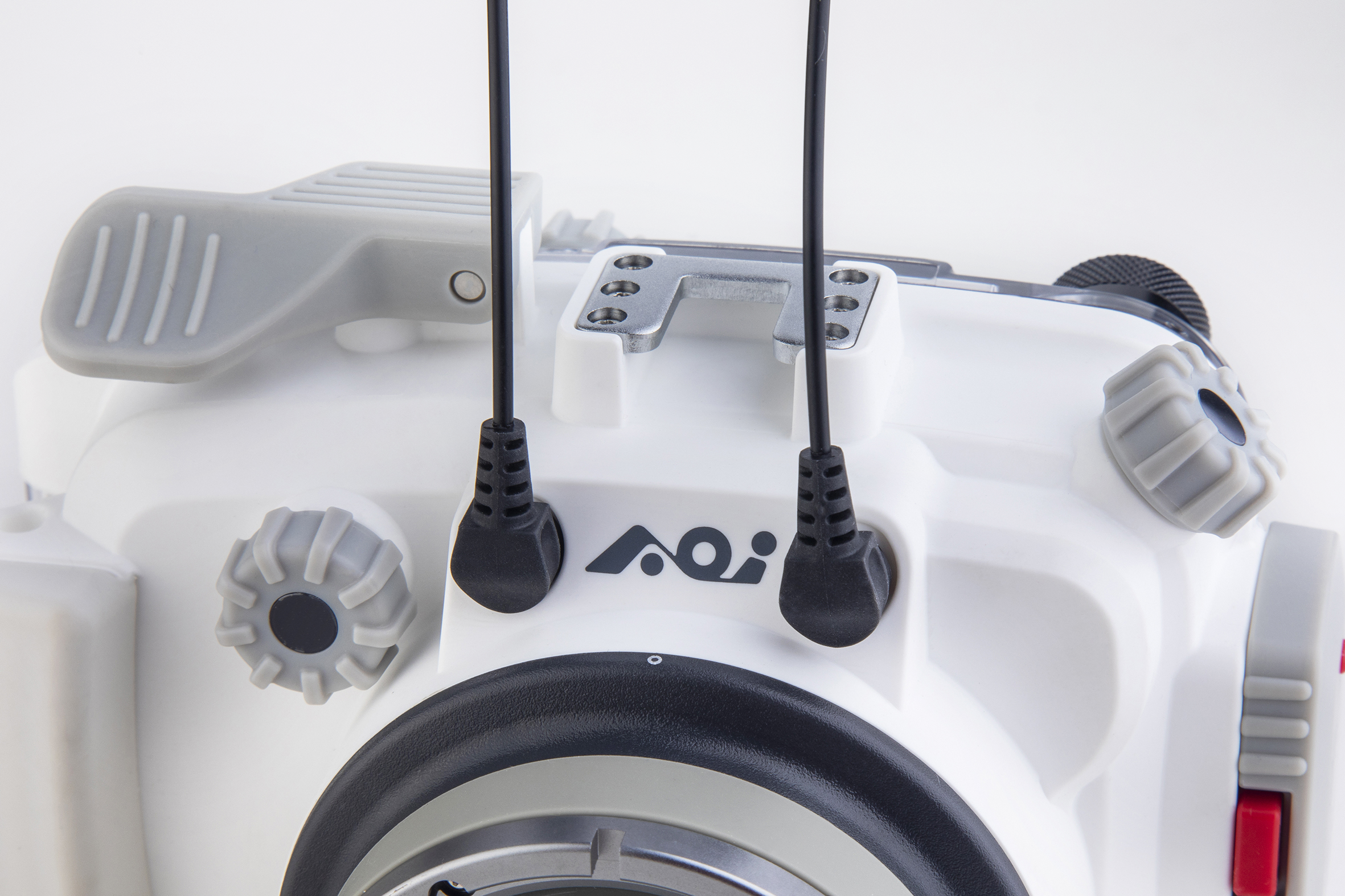 That's when you discover that the AOI Multi-control Device does one more trick - it also runs an Optical Flash Trigger that helps conserve your camera's battery. This is connected to your camera's hot-shoe, and it triggers the flash without needing to fire your camera's built-in flash unit – which is a very power-hungry camera function. The USB rechargeable Battery has enough capacity for most divers doing approximately three dives a day for three days at 250 shots per dive - while also running the previously mentioned Vacuum Analysation and Wet Detection System (VWS).
Even the humble detachable LCD monitor hood is another component that benefits from platform-based design thinking. It prevents bright sun from blinding your view of the LCD - but take it off, and its mounting points fit an AOI LCD Magnifier or Angled Viewer accessory. With either of these accessories, you can put your mask right up to viewer for a large and clear view of the LCD.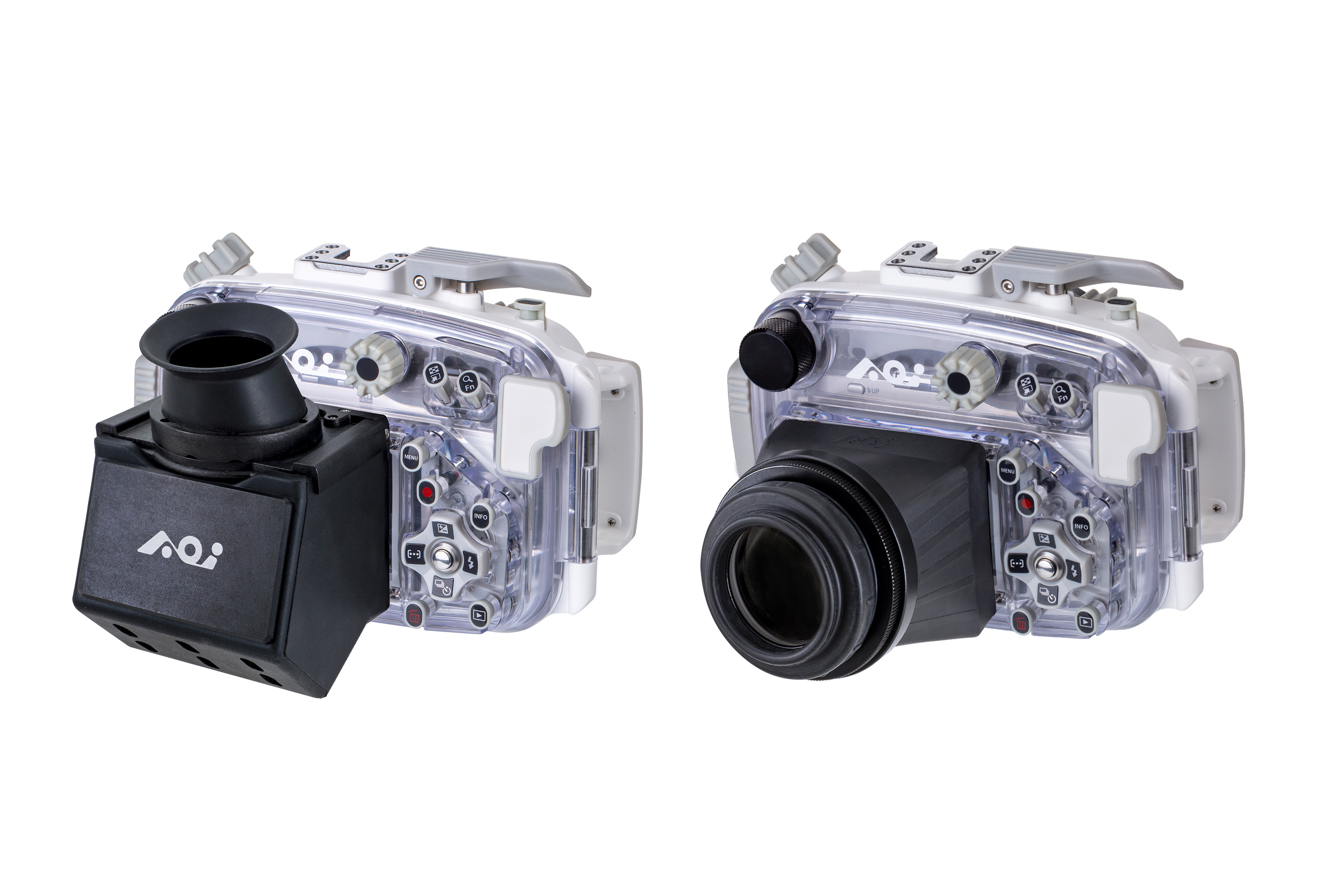 Grows with you all the way to a pro-level setup
The platform is still far from done - you can still get into even more advanced equipment. It's as easy as changing up to a dedicated macro or wide angle M.Zuiko lens. With the lens, all you need is the matching Focus Ring Gear, Extension Ring and Port. These accessories come from the AOI Port System, which is designed to fit this platform (as are a selection from the Olympus Port System). The accessories you need are clearly detailed on the expansion pathway on the user guide (fig 2). For more information on other lenses and AOI accessories that also fit, you can check www.aoi-uw.com.
Otherwise, the expansion pathway is an excellent starting point. You can choose from the M.Zuiko 14-42mm or 12-50mm Wide-angle, 9-18mm Superwide, 8mm Fisheye, 30mm and 60mm Macro Lenses. What's better, is that you can easily switch between these - just press the Port Release Button, twist to remove, and switch in another lens with the matching port and accessories. It's all kept secure thanks to the Port Lock on the housing.
You can use this expandability to help set up your rig to match your diving. Not sure of what you'll see? Take the 14-42mm Kit Lens and a couple of wet lenses. Going on a tiny critter hunt? Put in a Macro Lens (and you can still add on wet close up lenses too!). Diving with the big fish? Switch over to a Superwide or Fisheye Lens. Doing all of this in one day? Find a nice dry spot on the boat, and switch setups between dives. It's that easy, and it will all fit into a compact bag.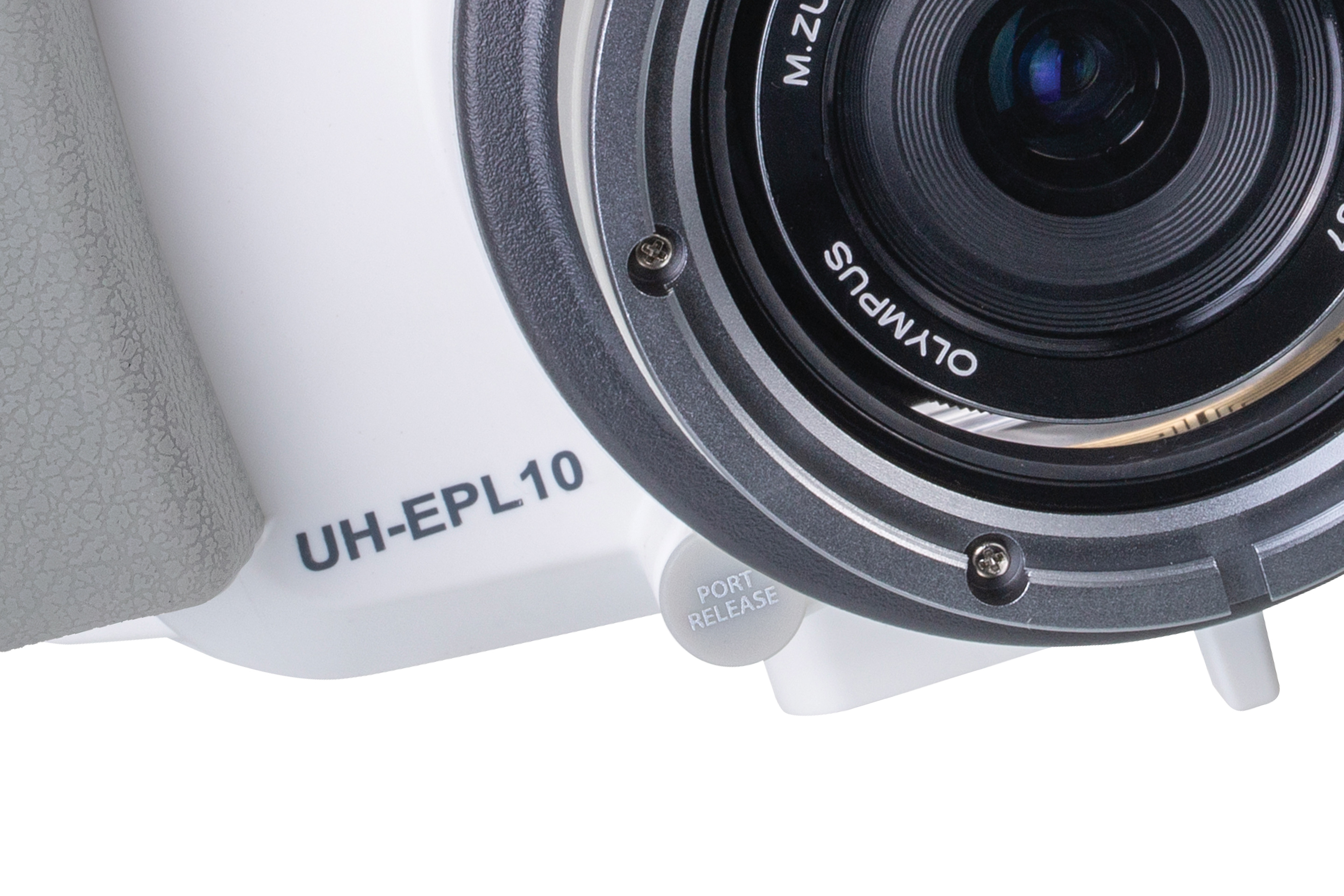 Makes the most sensible starting point
The AOI UH-EPL10 is a large step forward for AOI. Mr. Victor Tsui adds "We've always recognised the issues (and costs!) behind building or upgrading your underwater rig. Get the starting point right, and you have a perfect platform that can grow with you as your appetite for photography and dive skills grow."
"It's human nature to want to expand, to explore, to play" says Mr Victor Tsui. "Underwater photography should be a means to extract more enjoyment out of what you're already doing, without being a burden in itself. The right platform is a one-time investment. Everything else can be added on at your pace, as your skills, abilities and type of diving you're doing changes. It's as simple as twisting on the tools you need, it will always fit perfectly."
So jump right in with the AOI UH-EPL10. It can be your constant dive companion that will reveal your true potential as you adapt, expand and master the art of underwater photography.